AN UPDATE FROM OUR PASTOR CONCERNING OUR WORSHIP SERVICES
AND CHURCH ACTIVITIES
March 25, 2020
In obedience to the Scriptural command in I Peter 2:13-16 we will temporarily discontinue all worship services and other church activities that would violate the orders of Mayor Reichert. Mayor Reichert is not attempting to deliberately or deceitfully prevent us from obeying the commands of our Lord Jesus Christ or to infringe upon the rights guaranteed to us in the First Amendment of our Constitution. If he was, I would personally practice and encourage you to practice civil disobedience as the Apostles did in Acts 5:27-29 regardless of the consequences.
Mayor Reichert is exercising his authority for the protection of us all and I commend him for doing so. I encourage you to let him know that you appreciate his efforts. I am sure he did not enjoy issuing an order that he knew would negatively affect the livelihood of many in our community and restrict the freedoms we have taken for granted. Let us remember to uphold Mayor Reichert and our other political leaders in our prayers. They need divine wisdom and courage to guide us through this pandemic.
Until further notice we will endeavor to livestream out Wednesday Evening Service and our two Sunday Worship Services at their regular times on our Facebook page. These services will be abbreviated and focus primarily on the preaching of the Word of God. Hopefully we will not encounter technological problems that will prevent us from livestreaming them. Audio recordings of these sermons will also be available on our webpage at www.gileadbaptist.org.
For the sake of those who do not have access to livestreaming we will provide copies of our pastor's notes for each of his messages upon request. There will be no charge for these copies. You may call the church office during regular office hours and request these copies. We do plan to keep our church office open as usual on Monday – Thursday from 9:00 AM till 3:00 PM.
Several have asked about how to give the Lord's tithes and their offerings. You may mail financial contributions to our church address or drop them off at the church office during regular church hours.
Please stay in touch with one another and let me know if you discover a need or sickness in our church family that I need to be aware of. I am making calls throughout the week checking on different members of our church, especially those who are most susceptible to the virus. In some cases the phones have been so busy that I have not been able to get through. I am confident it is because others in our church are also checking on them. Keep up the good work.
Stay your mind on the Lord (Isaiah 26:3).
Your Pastor,
J. Craig Holmes
Pastor & Mrs. Holmes would like to invite you to our next service!
We look forward to seeing you!
(see service times on our Calendar & Events tab)
(see What We Believe tab)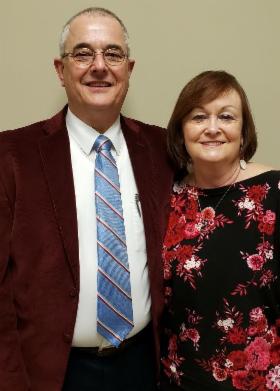 THIS WEEK'S SCRIPTURE MEMORY
3/22/2020 --- 3/29/2020

Thou wilt keep him in perfect peace, whose mind is stayed
on thee: because he trusteth in thee.

Isaiah 26:3